Best PS4 games for the party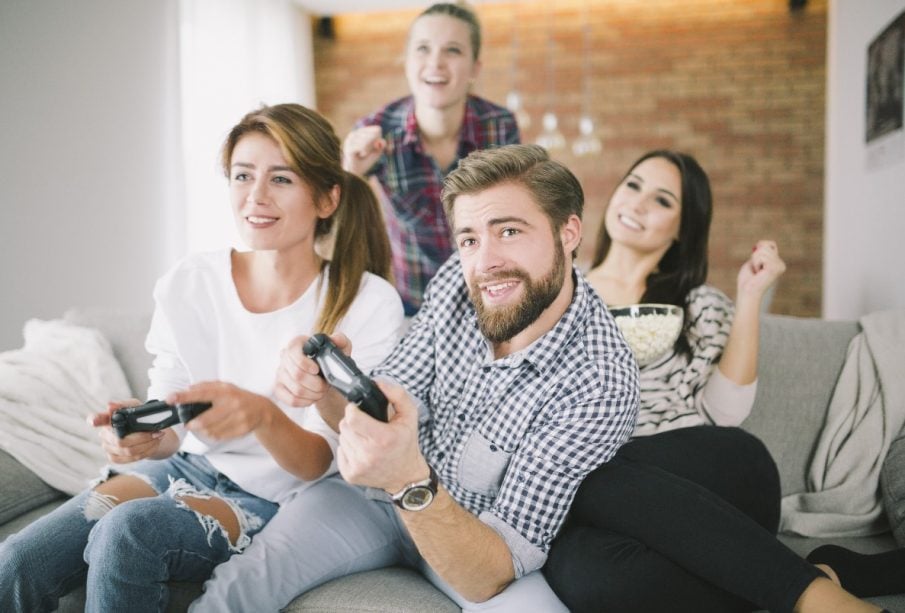 Looking for the best couch games that are tons of fun for you and your friends? From arcade games to sports games, from competitive to co-op, there's something for you and your team.
Whether you're a hardcore gamer or just play with friends, the PS Store has plenty of games to suit even the most hardcore of console users. From quirky brawlers to quizzes that you play with your smartphone, the PS4 offers a huge variety of games to spice up any party. Below you'll find a list of PS4 games that will make your house party unforgettable
Sportsfriends
This title is actually four games in one, although each one is sure to give you loads of laughs. All of them are based on competition and eliminating your opponents. BaraBariBall is a mix of Super Smash Bros and water ball, while Hokra is a sort of abstract version of soccer. Two other mini-productions are particularly original – Super Pole Riders is a game in which two or four athletes using poles are tasked with pushing a ball hanging from the ceiling into the opponent's goal. You can do it with a tool held in your hands, or you can settle the issue with your own body… after bouncing into the air. Funny physics and the characters' awkwardness in handling the pole creates many funny situations, and the competitive layer provides an additional thrill. The last title, Joust, involves making your friends lose their balance so that the controller they're holding moves. That's all it takes to eliminate them from the competition. There's just one problem – at the same time, you have to watch out for your pad, after all, your opponents aren't sleeping. The game is absolute madness, especially when you play with your favorite team of people, but it provides a ton of great fun
Rocket League
The game is based on a very simple concept – it's soccer, only… car soccer. And although it sounds strange, Rocket League pulls you in like quicksand. With turbo cars chasing a huge ball, the game is dynamic and requires dexterity. You can play 2v2 matches to try and score as many goals as possible, but it's the desperate battle to get the ball away from your own field that's the most fun. Cars can perform tricks and flips, and even use the afterburner to take sky-high shots. Whether you're looking to beat everyone in your path or just have fun doing flips and chasing the ball, you're in for a lot of laughs
Overcooked 2
This title can turn you and your friends into an unstoppable team, or highlight the chaos that governs your decisions. Either way, it's going to be fun. In the game, you take on the role of cartoon chefs who must work together to prepare meals for impatient customers. Not to make things too easy, you will be faced with moving kitchen cabinets, burning appliances and other obstacles that make it difficult to get from the sink to the pan. Before you know it, you'll be shouting and telling each other who's chopping vegetables, who's frying, and who needs to wash the dishes, because customers don't like to wait and the clock is ticking. The game teaches you how to work together, but don't get too mad at each other – everyone started somewhere.
Hidden Agenda
This title is not so much a game as it is an interactive movie. Perfect for quieter meetings with friends, it involves making joint decisions about the development of events on the TV screen. Each player must have their own smartphone and a dedicated app. During the interactive session, players will have to choose the path, dialogue option or action performed by the hero. Each of these has its own consequences and each leads to a different finale, although the ultimate goal of the game is to solve the mystery and discover the identity of the serial killer. The decision is usually made by majority vote, but there are exceptions to this. Sometimes the outcome must be unanimous, and sometimes one of the players can use the title's special action that changes the group's decision. You'll never be sure who you can trust or how things will turn out the next time you go through the game
TowerFall: Ascension
This game has some of the best local multiplayer on PS4, is fast-paced, and is sure to spice up your evening with friends. You and three other daredevils head into pixel-art dungeons and caves where you face off against each other in a series of fierce battles to the death. The combat system itself is based on archery and a limited number of arrows, and thus the need to collect recharges and steal ammunition from your opponents. This battle royale has a lot of gameplay modifying options that can be saved for future matches. There are no things better at a party than a good old battle between participants – electronically, of course.