Climate-controlled gaming room lighting in five steps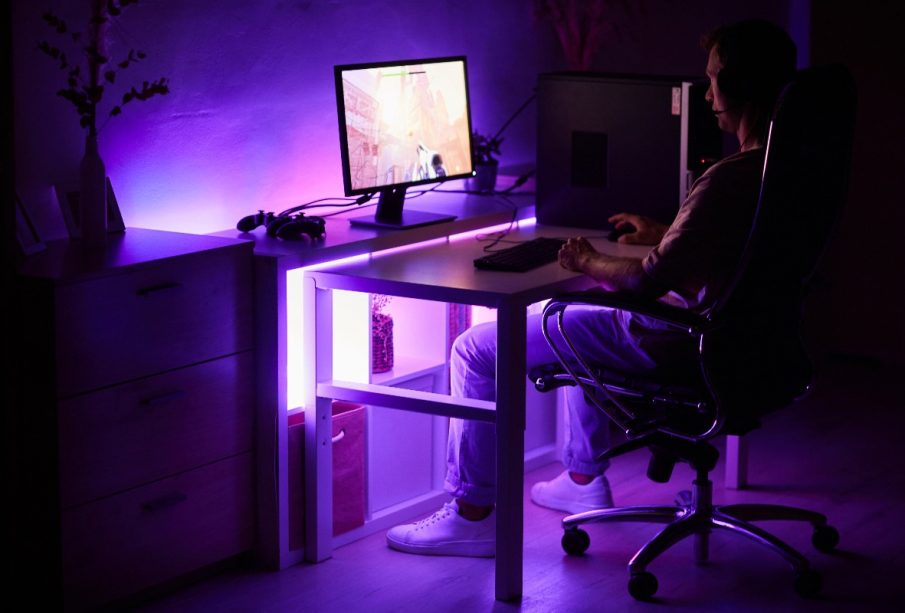 If you want to create the perfect gaming room, proper lighting is almost a necessity today. Whether it's the desk that casts a subtle reflection on the wall behind it or the interior of the control panel that shimmers with all the RGB colors, one thing is for sure – atmospheric lighting will make your computer set look a whole lot better
In this guide you will learn step by step how to get the most out of your lighting effects and what you absolutely must consider before you start working on your dream gaming room
The right lighting color
The first step you should take is to choose the right color of light. If the hue you choose is inappropriate, your gaming setup will appear inconsistent. In the worst case scenario, it may even negatively affect the perception of the whole thing. Fortunately, most LED strips have a wide color palette, so you can adjust them on the fly. Thanks to such a solution, you will not be forced to see only one color chosen at the beginning. Still, it's worth considering the right lighting color before you make any purchase.
View this post on Instagram.
In the perfect gamer's room, you'll need more than LED strips – backlit lettering, wall lights, and other items where the target color can no longer be changed will also come in handy. If you want to make it a little easier for yourself to choose the right color composition, opt for a single shade. This way you won't have to worry about the colors clashing. The most common colors used in gamer rooms are red, blue, green, and also purple. Ultimately, your taste is the key thing when choosing lighting colors. After all, you are the one who will be spending the most time in the room you have prepared.
Table and monitor backlighting
If you want to upgrade your gamer set with a climatic display, you should start by backlighting your desk and, if necessary, your monitors. The easiest way to do this is with LED strips, which are available at a reasonable price at many online and stationary stores. Such strips offer different colors and modes in which they can glow. Once you've made your purchase, all you need to do is stick the tape to the back of your desk and monitors and connect the appropriate wires. Depending on the model, you'll be able to change the way and mode of the synchronized strips using the included remote or your phone
View this post on Instagram.
Lighting up the interior of your control room
If you want to turn your gaming room into a real command center, be sure to get a control panel enclosure with a transparent wall. The RGB backlighting will then create a particularly attractive combination. The light emanating from the inside of the case will highlight each element of the internal hardware configuration, reflecting off the chrome cooling elements, chipsets and heat sinks. In many panels LEDs are already built into the walls, and you only need to choose the right color. In the most interesting sets you can change the light colors yourself in real time.
If you have a cabinet without built-in LEDs, you can install LED strips yourself – just as you did with the desk and monitors. Special illuminated fans are also worth mentioning, as they provide a great effect on their own. Also some motherboards have illumination modes – before buying it is worth to check the detailed specifications of the subassembly. However, if you decide to use LED strips, it is worth remembering about one thing: when mounting them in the case, it is worth buying a magnetic version. Such strips are a bit more expensive, but you can use them repeatedly and they do not leave adhesive residue
Striking lights on the walls
LED strips mounted on desks and monitors, as well as the illuminated interior of the CPU unit, are usually not enough to keep the room bright enough at night. But if you turn on the big, yellow light of a ceiling bulb you will destroy the whole atmosphere of the configuration built with so much effort. That's why you should think about wall accessories that will maintain the right atmosphere of the gamer's cave. Triangular light panels, which are popular today, will answer your needs perfectly – they will brighten the room, maintaining color harmony
View this post on Instagram.
If you're looking for other shapes, you can also go for the popular hexagons or take the other, often cheaper route, and install neon lettering on your wall. In this case, however, you will remain limited to the one color you choose when you buy. It is also worth looking around for illuminated gadgets from games and movies. Such illuminated masks, swords or dice do not give much light, but they fill the room and are a perfect highlight of the owner's interests
Highlighting the rest of the elements of the PC set
An atmospheric complement to the impressively illuminated gaming room will be LED mouse and keyboard. Nowadays almost all computer peripherals have their RGB variant. Nevertheless, beware of the cheapest accessories of this type – they do indeed have colored backlighting, but the quality of their workmanship often leaves much to be desired. You can also think about buying a gaming chair with built-in LEDs. The offer of manufacturers in this regard is not too rich, but there will be some high quality gems. Before buying, it's worth taking a look at any rankings and comparisons that will give you a holistic view of different hardware configurations.