The best PS4 games to play with your other half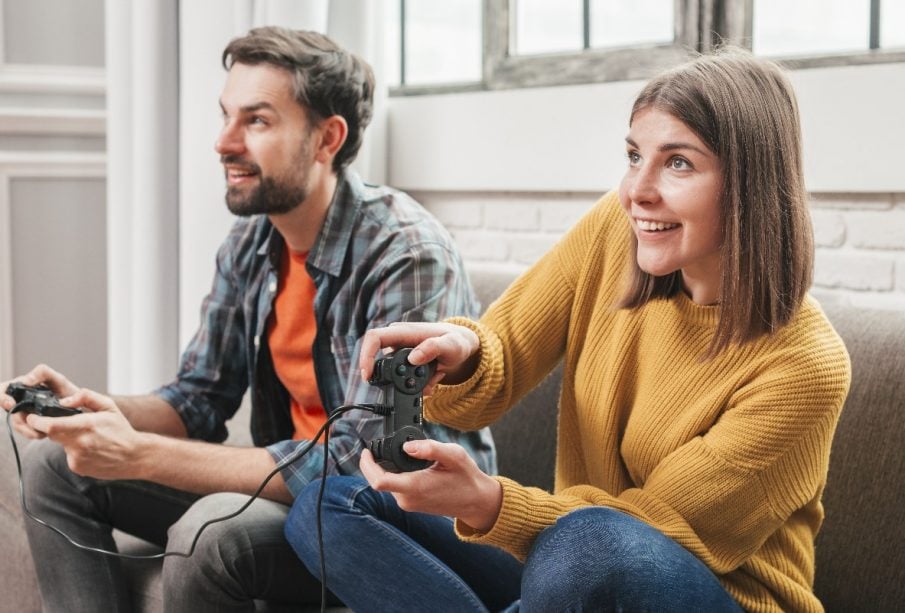 Want to spend time together in the comfort of your couch, but don't know exactly what you can do? TV and Netflix aren't enough – check out the best PS4 games together that will allow you to have fun together.
Relationships between two people can be very different. Fortunately, the world of video games offers a vast library of titles. Experiencing or tackling challenges together is good for a relationship, but sometimes you need a bit of competition too – there's hardly anything as satisfying as rubbing your boasting partner's nose in it. The list below will help you choose the right game for two, for almost any occasion.
Rayman Legends
Although the game featuring the lovable hero was released in 2014, it still entertains just the same. Beautifully animated graphics are pleasing to the eye, and the cartoonish, distinctive world and extremely catchy soundtrack does not allow you to take your eyes and ears off the TV. The fact that this is a platformer lowers the threshold of entry to the game and makes it so that even those who haven't had much to do with a pad in their lives, after a few tries will be traversing virtual worlds with real pleasure. Run, jump and fight your way through medieval castles, dungeons full of traps, vast deserts, oriental airships and many other lands together. The game is cooperative and requires mutual assistance, so it can be a great solution for a quiet evening for two.
Unravel 2
Another platformer, although with a much slower pace of gameplay. The main characters are yarn teddy bears that travel through beautifully designed locations. With the help of woolen threads you will solve many puzzles and go through unusual traps. The intriguingly designed levels are very detailed and animated in a natural way despite the fantastic scenery. Some of the obstacles must be overcome with skill, others through logical thinking, but they are always pleasantly challenging. In a moment of possible frustration, you can always turn on the hints
A Way Out
This title is an interactive movie whose plot will have a chance to change depending on your choices. Two inmates Leo and Vincent are fed up with life behind bars. They want to escape, but the only chance they have requires cooperation. You and the other player take control of them and for the first part of the game, you try to find your way through the grim reality. A split screen will allow you to freely search the prison grounds, and QTE sequences make action scenes easy to play even for the layman. The game is very linear, so those with less gaming experience will not feel lost. It also allows for a better story to be told, but the finale itself can vary depending on your actions and choices. A Way Out is one of the few games on the market that can't be played alone – it's designed specifically to be played by two people, preferably a good friend. What's more, you don't need to buy two copies to play with someone online.
Lovers in a Dangerous Spacetime
All love has disappeared from the galaxy, and there's only one way to bring it back – by freeing the rabbits scattered around it. This is a production that was created directly for playing with the other half – two heroes try to find the lost creatures and save the lost feeling. Players travel in a round, pink ship around the virtual universe, collecting upgrades, fighting alien hordes and avoiding dangers. Players don't move the vehicle directly – there are more stations inside that control various mechanisms – engine, shields, map, or cannons. Each character can occupy only one station at a time, which is why cooperation and good communication are so important. During the flight you have to decide what is most important at the moment – firing at predatory opponents, strengthening defensive shields or maybe escape in the right direction
Overcoocked 2
Anyone who has ever cooked together with a group of other people knows that communication in such a situation can be a challenge. Add to that the army of the undead bread king Unbread marching on your land, which can only be defeated by a series of delicious dishes delivered on time, and you have the perfect recipe for a hit for the evening. The game involves keeping up the pace of food preparation in a restaurant kitchen. But that's easier said than done, especially since you and your partner have to embrace many different activities such as cutting ingredients, keeping an eye on recipes, meeting deadlines, washing plates and so on. Cooperation and communication is key – it's impossible to keep track of all the tasks a group of cooks face on your own. The game provides a lot of fun and satisfaction, as some missions are really challenging, but the controller itself is extremely simple to use.