Comfortable gaming station – these things should not be missing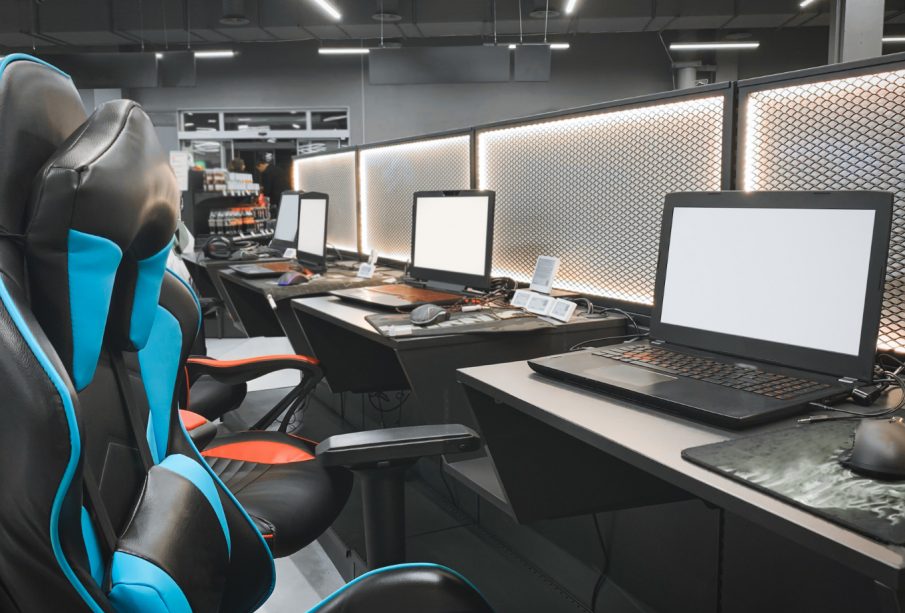 Do you wake up in the morning with a backache, after a few hours of gaming your wrists sting unbearably, and your desk is not able to accommodate two monitors? It's a sign that it's time to upgrade your gaming corner.
See what you can't forget about.
Gaming desk
Replace your plain old workstation with a gaming desk. Their advantage over office desks is that they are designed to accommodate all your most important gaming accessories. You can easily place at least two monitors on each of them, and most models also come with other amenities such as a cup holder or pad stand. The reinforced construction of the tabletop will allow you not to worry about possible damage to your valuable equipment.
Believe me, a stable desk is essential – I know what I'm talking about. In the past, I managed to completely demolish my guy's desk because I hit my foot on it while playing Cuphead. We were extremely lucky that we were able to catch the desk during the fall and our monitors worth several thousand didn't hit the ground. I wouldn't take that risk again and instead of a regular desk I would choose one that I don't have to worry about stability.
Good lighting
Who doesn't dream of decorating their gaming corner with multicolored, neon lights? Equip yourself with pre-made lamps that you can easily attach to your desk, or simply buy LED tape. You can stick it directly under your desk, run it along the wall around your computer or decorate the ceiling of your room with it.
Keep in mind that LED tape itself should not be used as a decoration, if it is to be stuck in a visible place. If you want to illuminate the entire room with it, for example, by suspending it from the ceiling, purchase fluorescent tube covers. Just run a piece of tape through these covers and attach them to the wall and your installation is complete – and without the "naked" look of LED tape!
Ergonomic chair
Feel like your bones are breaking in half after long gaming sessions? I know the feeling. Take care of your body and choose a chair that provides comfort and support for your spine.
Thegaming chair should fit your height so that when you sit, your feet touch the ground. Make sure it's not too big in proportion to your desk – there's no worse feeling than buying a new gaming chair only to realise you can't move it fully towards your desk because the armrests are too high.
Pay attention to the position of the headrest. Its job is to provide support for your back, shoulders and neck, so that after long hours of gaming you don't feel the nagging pain. Unfortunately, a poorly placed headrest can do more harm than good. That's why you need to make sure that it fits well to your body. A good gamin chair model will have the ability to change the height and position of the headrest so that you can adjust it to your needs.
Take a look at the armrests. What shape and distance are they in relation to each other? Can they be adjusted? Choosing a model with properly positioned armrests will ensure that you are not forced to hold your arms in an uncomfortable position. Many professional gamers struggle with wrist problems, so make sure your hands are not subjected to extra strain while gaming.
Remember – while the aesthetics of a gaming stand are important, your health should come first. So always opt for ergonomic options that have been created with gamers in mind when choosing furniture or gaming accessories.