Seat and steering wheel for car fans…. from behind the screen!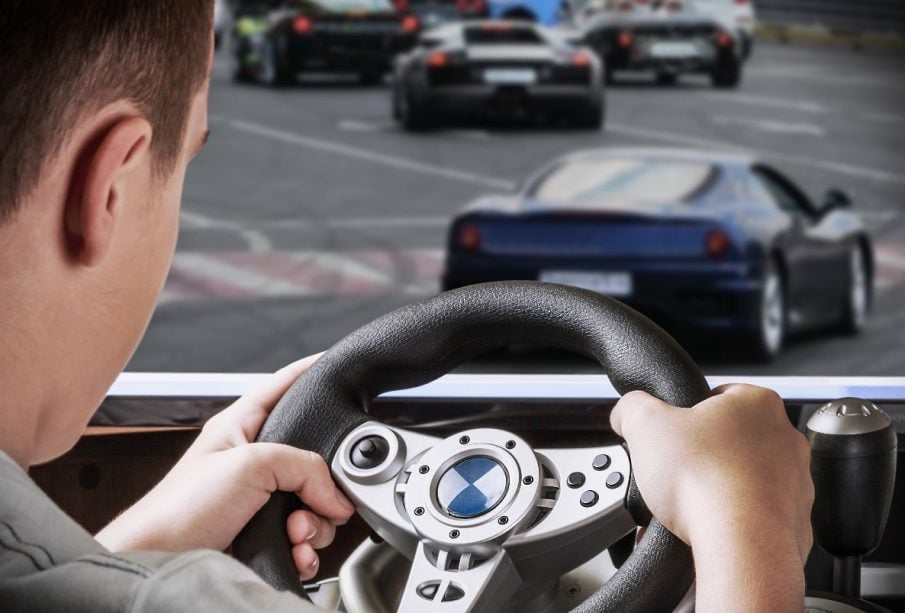 Is it worth buying a gaming chair and steering wheel? Fans of behind-the-screen motoring don't need to be convinced. Check out some of the most interesting proposals
Recommended gaming seats
Comfort, proper positioning of the spine, height or tilt adjustment and backrest angle – these are the features and advantages every gaming chair should have. What else distinguishes a good seat that allows for many hours of comfortable entertainment? Rocking mode, full adjustment of armrests, even in four planes. Here are some examples of chairs that offer the above mentioned features:
Diablo X One
Unusual look and comfort go hand in hand with functionality of the applied solutions. The chair is available in several colors, including a black and red version. The headrest is finished with characteristic horns, which is a reference to the company name. The Diablo X One is a bucket model with tilt angle backrest, height and armrests adjustment. It also comes with a rocking option. When you choose this model, you will get the option to adjust the lumbar cushion, which provides the perfect support for your spine.
Key features of the Diablo X One armchair
Material: synthetic leather,
Load capacity: up to 150 kilograms,
Overall height: 139 (145) centimeters,
Seat height: 47 (54) centimeters,
Third class gas lift,
Number of legs: 5.
Corsair T2 Road Warrior
A much more expensive model than the Diablo X One mentioned above. However, in return you get an elegantly finished gaming chair in a solid color. Ideal for both entertainment and work. Comfortable seat, wide backrest upholstered with perforated leather are just a few of the many advantages of this model. Also noteworthy are the 4D armrests, which you can move in any direction. You can also adjust the backrest to your figure and lower it to a maximum angle of 170 degrees. Interestingly, the manufacturer took care of the unusual wheels, which can resemble those mounted in roller skates.
Basic information about the Corsair T2 Road Warrior chair
Material: ecological leather,
Number of legs: 5,
Seat height: 51.5 – 60 centimeters,
Fourth class gas lift,
Maximum load up to 140 kilograms.
Steering wheel for virtual car fans
With a good steering wheel you can feel like a rally driver during a race. If immersion is your number one goal, whether you're driving the latest Forza game or the off-road tracks in DiRT 5, you should pick one of the sets listed below.
Logitech Driving Force GT
A very interesting proposition from a well-known brand. What will you find on the steering wheel? a 24-position dial that you can use in real time. There was no lack of optical coding, which guarantees perfect sensitivity and precise transfer of turns to the computer screen. Performance, control, the highest level of realism, and unparalleled integration with game options. Feel the difference as you press the brake and accelerator or shift gears with the functional and ergonomic shifter
Basic Info: Logitech Driving Force GT
Rubber rim with a diameter of 28 centimeters,
Interface: USB,
Wired connectivity,
Compatible with PC and PS,
Force Feedback,
Gear shifting: paddles, sequential stick.
THRUSTMASTER TX Leather Edition
A more serious player on the market, the price of which in an authorized store is about 2 thousand zlotys. The steering wheel is expensive, but without a doubt it is one of the best proposals. A complete package for racing simulation on PC and Xbox. Increased precision of movements through the Hall effect by up to 200 times. Realistic steering wheel rotation of up to 900 degrees, and Force Feedback system that captures the bumpiness of the roads. You will feel the ultra-fast effects without any delay. Immersion is guaranteed with this steering wheel.
Detailed Information: THRUSTMASTER TX Leather Edition
Number of buttons: 6,
Programmable buttons: No,
Vibration: Yes,
Connectivity: Wired,
Includes: Steering wheel, 3 metal pedals with large operating range.